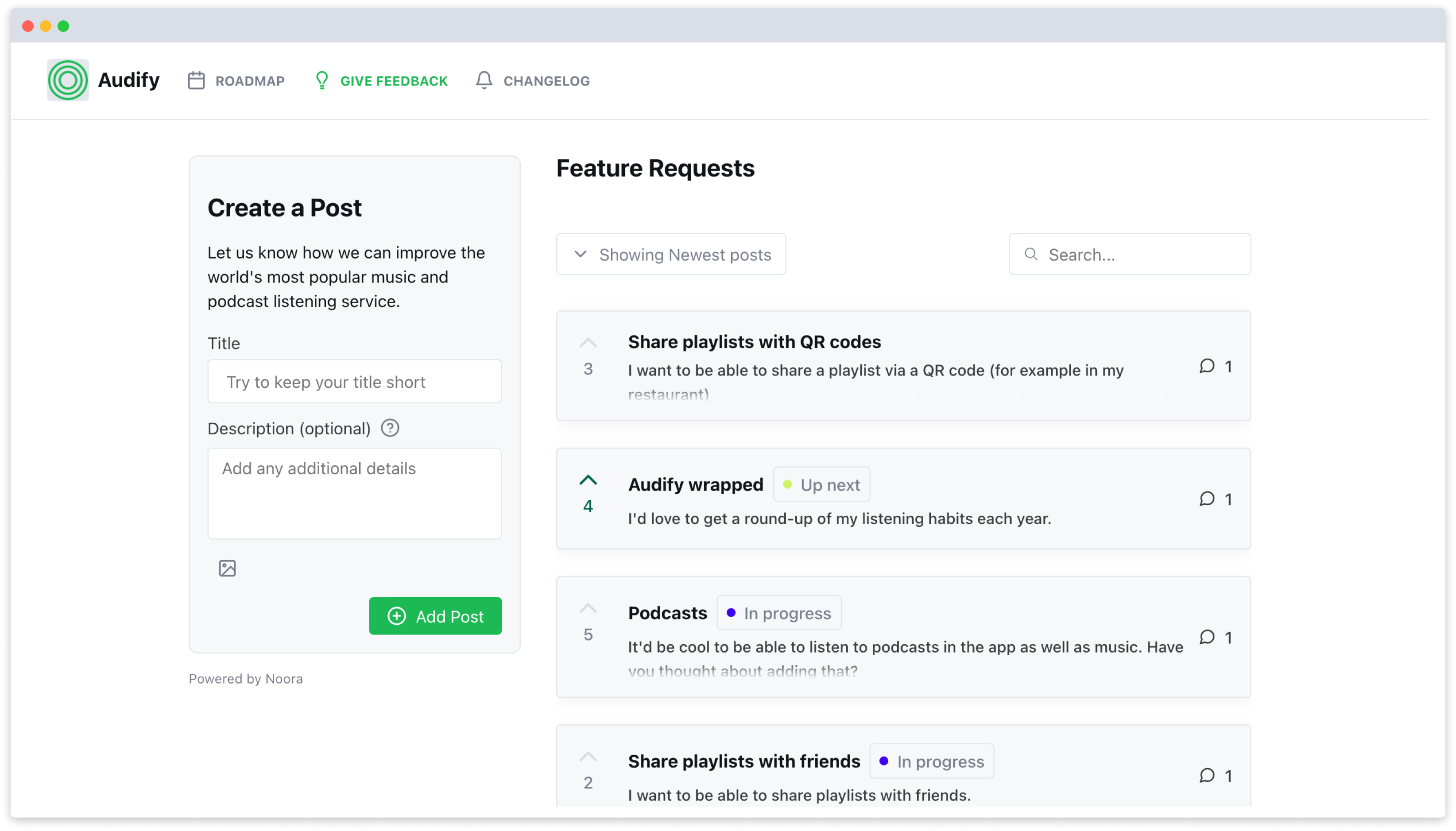 Why you should have a feature voting tool
Updated 12th March 2021
Using a feature voting tool can be a shortcut to customer loyalty and better product management decisions. This post will cover these topics:
What a feature voting tool can offer you
Why feature voting tools often fail
Examples of feature voting done right
Why you should choose Noora as your feature voting tool
What a feature voting tool can offer you
A feature voting tool allows you to collect feature requests from your customers or internal teams. It will also let them vote on each others ideas, helping you to see which ideas are the most popular within your user-base or community. If used in the right way, it can also be a way for Product Managers to dive deeper with customers and users to understand their real needs, and build better products, faster.
Why feature voting tools often fail
There are a number of reasons why feature voting tools can fail for you as a company or as a Product Manager. Here's a bunch of them that we see most commonly brought up:
People need to create yet another account to give feedback, so often don't bother.
If anonymous voting is allowed, you get a lot more noise than valuable prioritization signal.
Users can get annoyed if they suggest things that never get implemented.
There is often no roadmap presented to users, meaning they get no feedback on the ideas or features they suggest.
It is still not possible to get a clear overview of all the ideas people have suggested, and which to prioritize.
Examples of feature voting done right
The StoryGraph
The StoryGraph offers their Plus members the chance to provide feedback and product ideas for their book collection tracking app. They have done the following things right:
Re-used their existing accounts so that they can narrow feedback down to their paying members.
Shared their existing plans, so that they can pre-validate their future ideas.
Placed the feedback boards and roadmap on their own domain to make it feel like their own brand.
Why you should choose Noora as your feature voting tool
Now that we've outlined a number of the reasons why feature voting tools can fail, it is time to look at how Noora actually solves feature voting in a smart way.
Public and private boards - you can create spaces where any user can give you feedback, as well as create private feature voting boards to gather feedback from specific users or even your own internal teams. This is a great way of minimizing noise and improving the quality of the feedback you can collect.


Public roadmaps - Noora lets you share your future plans, as well as show all of the value that you have already shipped based on the feedback your users have provided. The roadmap is no additional overhead to you, since it is automatically created based upon the statuses you assign feedback.


Changelog posts let you follow up - stop wasting time sending manual emails when you act on feedback. By posting a public changelog post in Noora and linking the feedback that you have addressed with your latest product release or update, we will automatically e-mail everyone who has voted for those features.


Bring your own accounts - if you are thinking about using a tool where users need to sign up manually to add feedback. Don't. Just don't. It is far better to take advantage of Noora's powerful ability for you to automatically re-use your existing user accounts, making it incredibly smooth for your users to give you feedback and for you to be able to link it to your most valuable users or customers.


Genuine overview - our team has a background from building project management tools. We know that the bloated, bulky layouts of our competitors simply won't give you the ability to filter through the noise and build better products. That's why we have built a genuine feedback overview where you can search, filter and sort on whichever criteria you choose to make better decisions.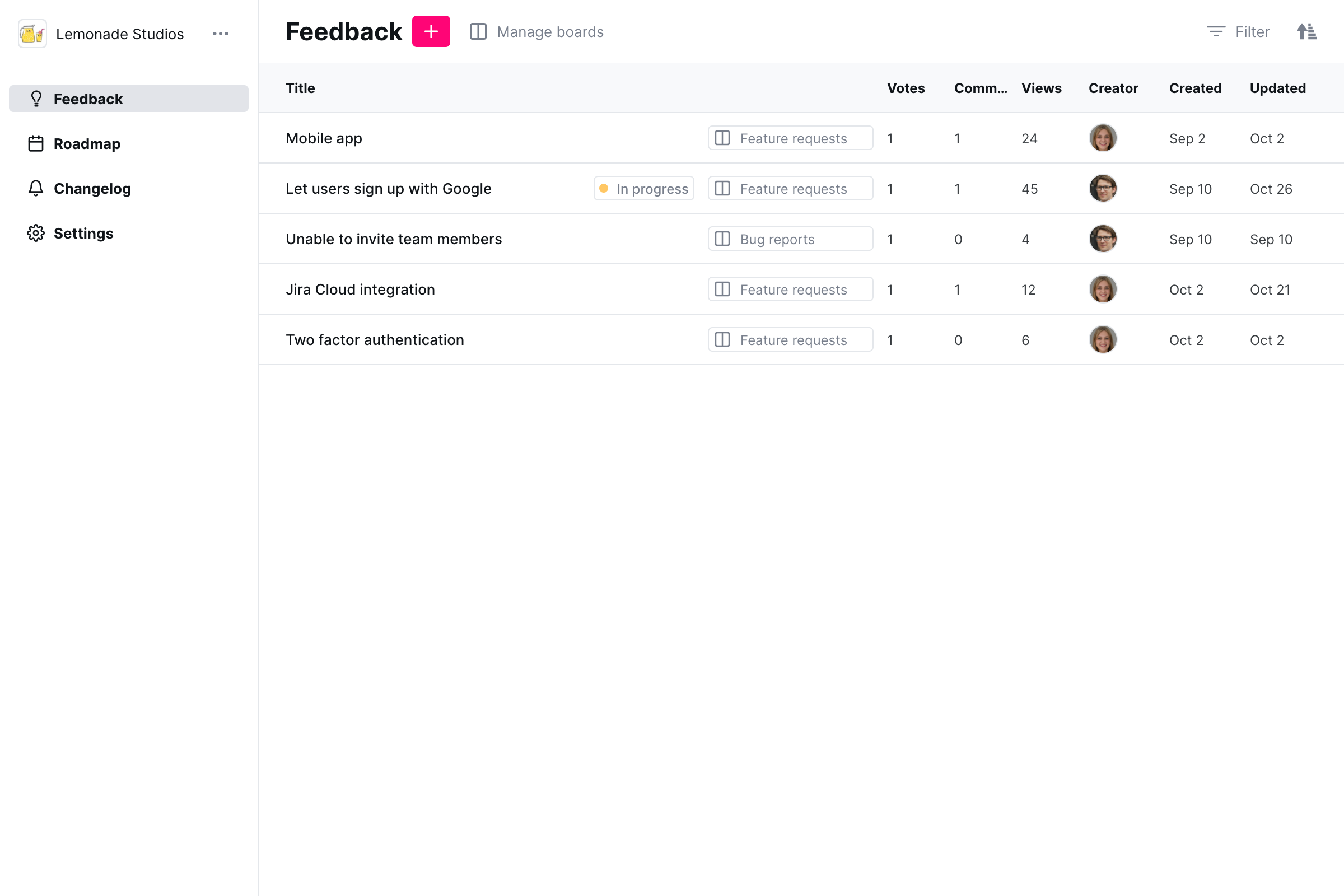 The feedback overview in Noora is a powerful tool for product managers
Next steps
Ready to get started? Sign up below for your free 7 day trial of Noora today.