Why Microsoft ditching UserVoice for collecting user feedback proves you should have a user feedback tool
Written 9th March 2021
Why has Microsoft decided to stop using UserVoice?
Microsoft has been using UserVoice to collect product feedback for a whole range of its products including Teams, Office365 and many more. However, they recently closed their Office365 UserVoice forum. Microsoft claims that this is due to recent policy updates within Microsoft across all products. More concretely, for their users this means that feedback is now only going to be collected through opaque feedback forms, with little or no insight for end users as to whether other users share their pain.
What has the reaction been from their users?
There has been a large amount of disappointment from Microsoft's users across social media and the rest of the internet. People feel that Microsoft are closing the door on their feedback and are going to make it much harder for users to collaborate and understand the future roadmap for each of Microsoft's products.
The best part about UserVoice is that the product teams addressed the items (or most of them). Seeing votes increase, reading other people's comments, and seeing responses from Microsoft product managers (PMs) made the time and effort I spent going through all the suggestions and adding detailed comments worthwhile. I always felt in the loop as the PMs addressed (or didn't) an issue. Knowing where Microsoft fell on a UserVoice suggestion gave me insights I needed to plan.
Time to adopt a user feedback tool?
It is clear that Microsoft's move away from UserVoice and towards closed forms that offer little to no transparency for its end users risks them losing out on product feedback from their large user base.
What's missing is a platform where anyone could bring an idea and ask the community to back the idea with their votes. UserVoice, for all its flaws, is such a platform. We can only hope that the replacement Microsoft choses is equally useful, and that the development groups continue to interact with customers and listen to their views.
The strong emotions this decision has generated within their communities shows how powerful being open and transparent with collecting feedback and sharing your product roadmap can be for both improving your product, as well as building a community that is committed to your products in the longer term.
If you and your team are ready to take user feedback more seriously, you could do worse than implementing a product feedback portal such as UserVoice or Noora.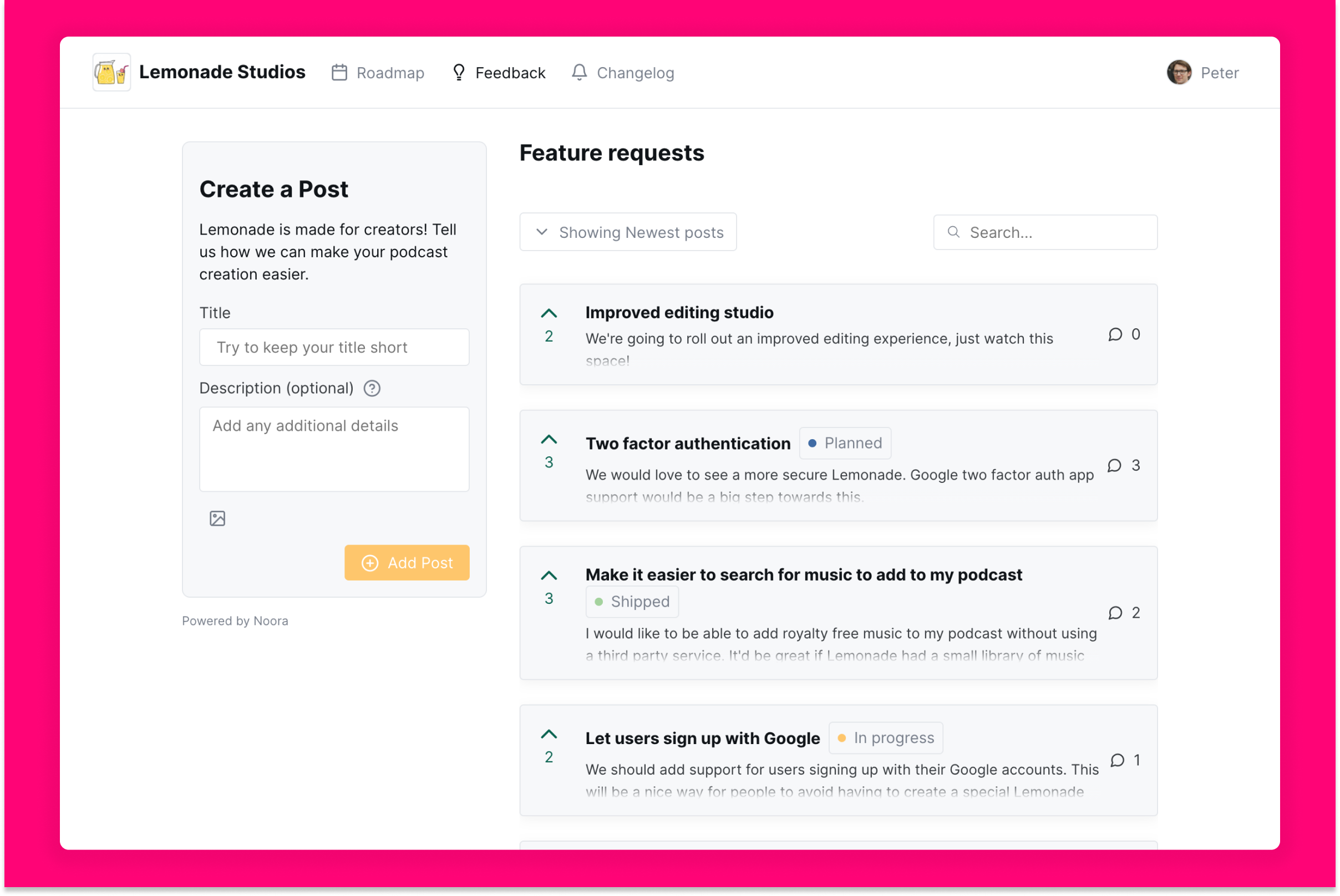 The customer feedback portal in Noora makes it easy for people to give you feedback and vote on ideas