Why you should use your own product (or how we use Noora to build Noora)
Written 12th November 2020
Collecting feedback and feature requests from your end users and customers is a great way to build better products, faster. Developing in isolation and without feedback can often lead to a large amount of wasted time spent on features that people derive no value from.
On the Noora team, we actively use our own product - Noora - to help build the world's best product feedback management tool. This article aims to go into some detail as to how we go about this, and hopefully inspire you to give Noora a try for yourselves.
Make it as easy as possible for our users to send in feedback.
We aim to develop in public as much as is humanly possible - both to build our audience, and also to make it simple for our users to give us feedback without prompting. Here's a few of the ways we achieve this:
The Noora widget is embedded on our website and also in-app, with SSO tokens enabled so users don't need to create new accounts to post feedback.
Our roadmap and changelog are embedded on our website, so that every visitor to our website can see what we're working on and what's just been released.
Our website footer has a "Give feedback" link, that takes visitors directly to our full Noora feedback portal.
Streamline gathering feedback from sources such as email and support tickets
A lot of feedback from users can come from surprising places, so it is important to not rely on users crafting feature requests on their own. Most will actually give you a lot of powerful insight when you interact with them on support tickets or email reach outs from sales or support.
With this in mind, we all have our Chrome extension installed. With the extension installed, we can simply highlight any feedback from our email inboxes and press Ctrl/Cmd+Shift+Y. The extension automatically picks up the highlighted text, the source url (so we can go back later if we want to read more context), as well as tries to match the contact email with one of our existing feedback users. It takes us less than 5 seconds to store each product insight we get from customer support.
A real-world example of gathering and prioritizing feedback
Here's a genuine example of how we've utilised feedback to add a story to our future product roadmap. We recently have received a couple of emails from people who have started trials of Noora. Both users independently have provided insight that they are concerned that Noora doesn't allow for anonymous feedback.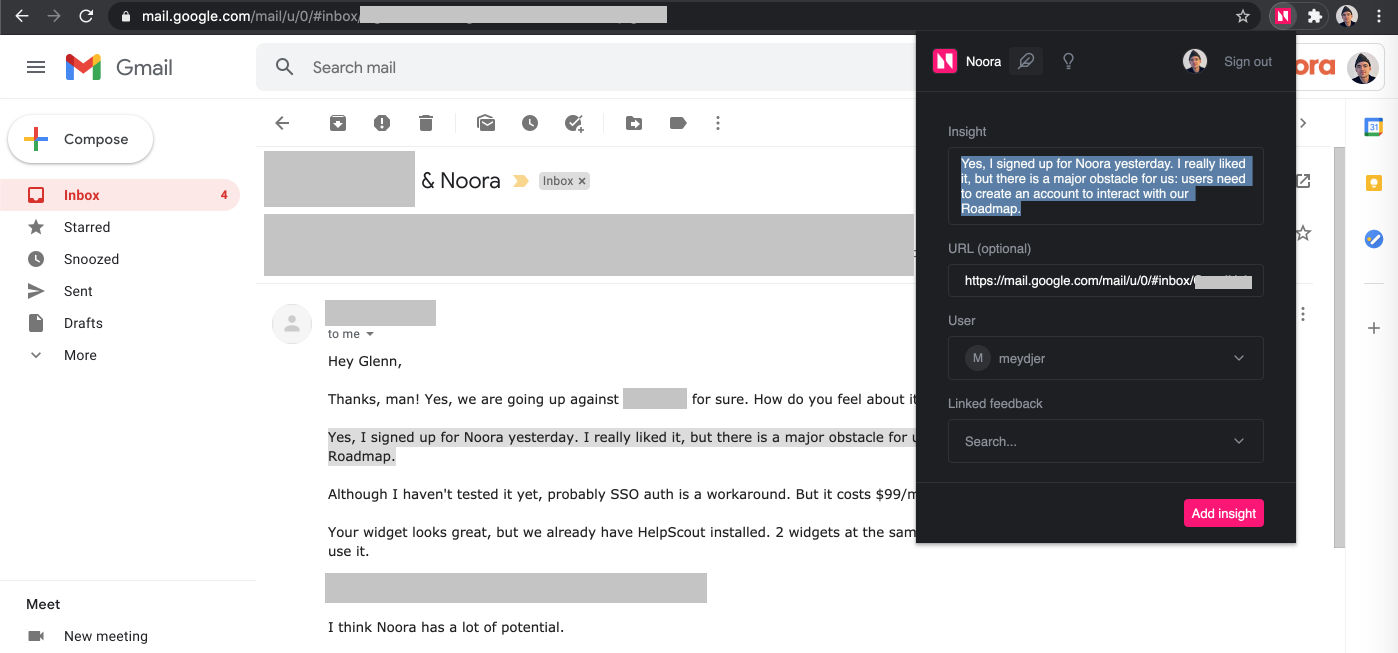 An example of capturing feedback from Gmail from an outreach email
With these insights from my outreach emails added to our Noora workspace, my next step was to create a feature request to link them together. This is as simple as adding a post to our "Feature Requests" board, and linking both insights to the post.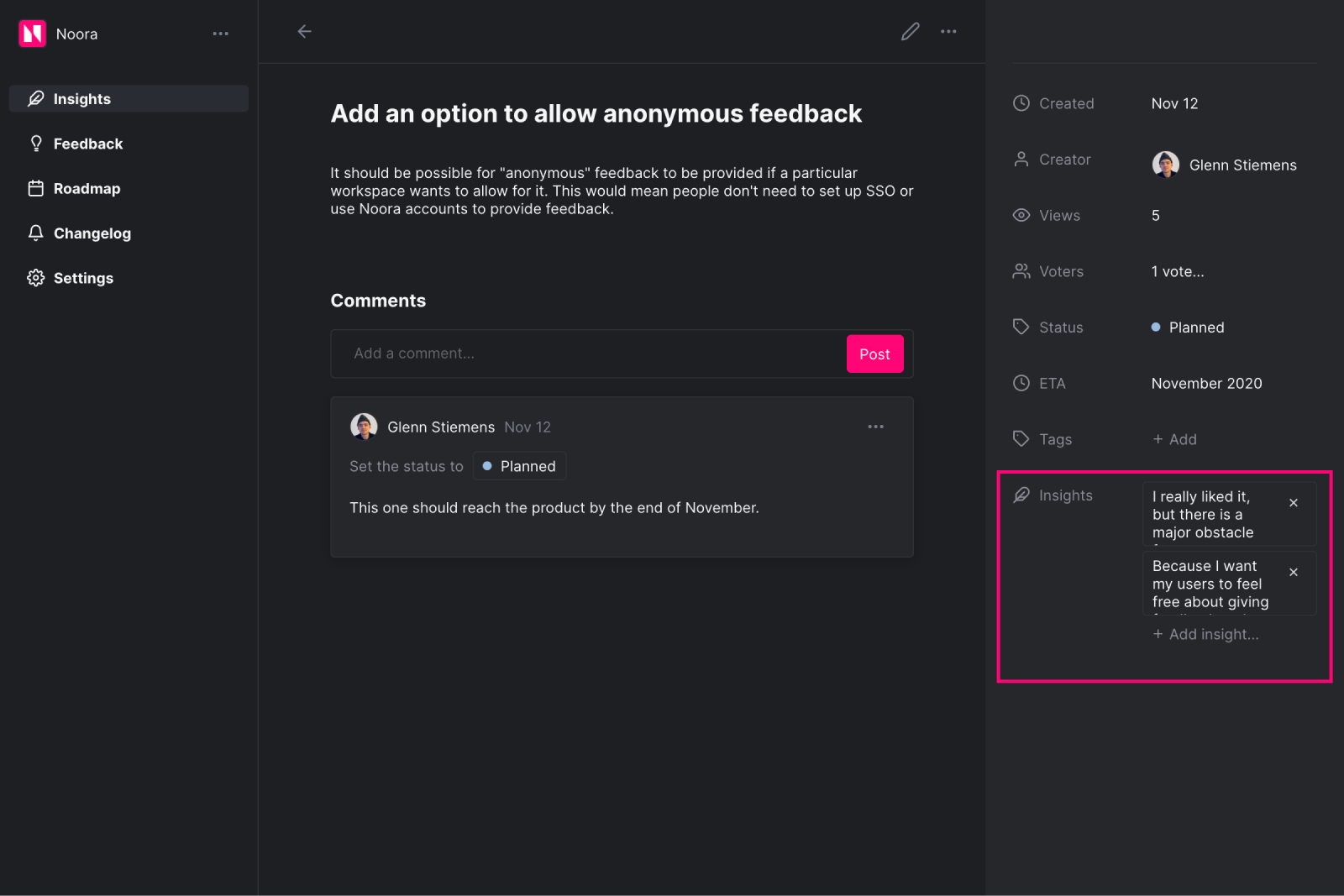 The feature request that brings together the two different insights
As soon as the feature request is posted to Noora, everyone on the team is notified automatically via our Slack integration. This helps keep everyone from product to support up-to-date with the input our customers have on the product.

We keep the team up-to-date with new requests with the Slack integration
And finally, since we have also set the status to Planned (because this is a request that we want to see in the product), the post is automatically added to our product roadmap. Since we also embed our roadmap on our website, it means that all of our visitors are automatically kept up-to-date with what is coming.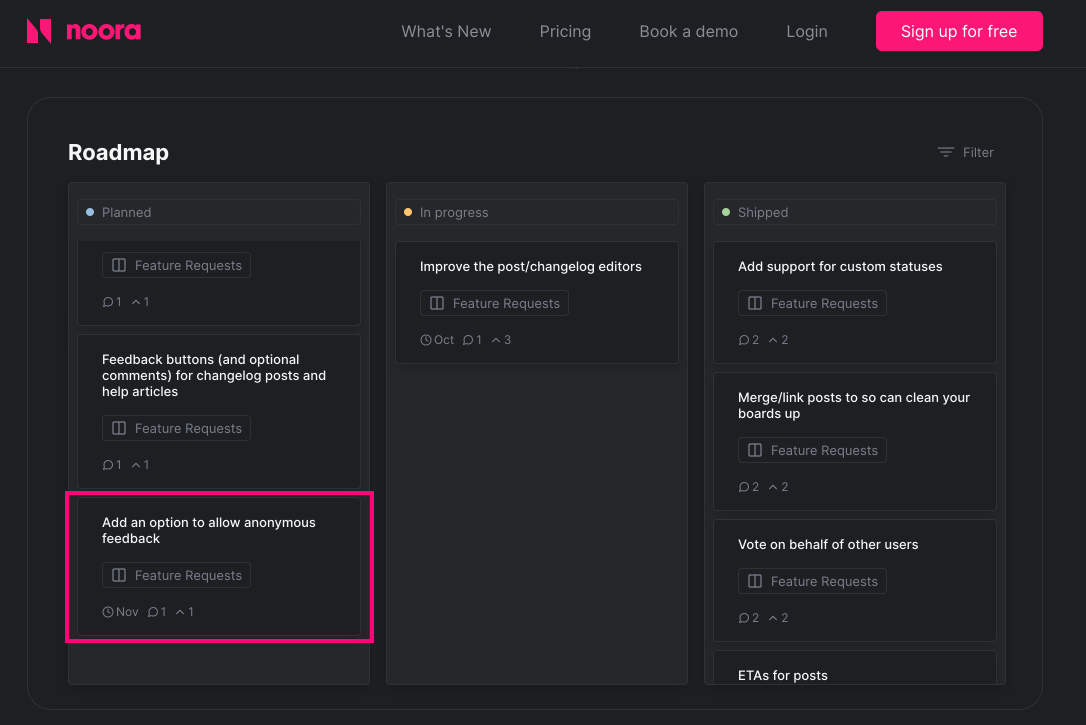 The final step before we start developing the feature, is to have it automatically show up on our public roadmap
Hopefully this article has given you an insight into how you can use Noora to help drive better product prioritization decisions. We've shown a real-world example of how to capture insights from customers from outreach emails, as well as how to link those insights to a feature request that has been added to our public roadmap.
Ready to give it a try for yourself? Sign up for your free 7 day trial today.