How to collect customer feedback from internal teams
Last updated 21st January 2021
What is internal customer feedback and why should Product Managers leverage it?
Customer feedback that is collected by internal teams and employees should be a highly valuable stream of insight for Product Managers. Your first priority should be to have a direct line to your customers and prospects, however, the second best is getting useful feedback from your teammates whenever the interact with customers.
Your role as a Product Manager should include ensuring that every customer-facing role in your organization is aware and trained in how to collect feedback from customers. The simplest way of ensuring that everyone is forwarding their data points, is to set-up a basic workflow for everyone to follow.
Make it clear to everyone what valuable feedback looks like.
Make it easy and frictionless for everyone to submit feedback.
Make it transparent in terms of how the feedback has been used, and what the results are.
Which tools to use to capture and prioritise internal customer feedback?
Given the previous three step strategy for getting internal teams to provide valuable customer feedback, let's take a look at the different tooling that can be used to faciliate the process.
Noora
With Noora, collecting internal customer feedback is fairly straightforward. Teammates can install a Chrome browser extension, which allows them to highlight text in emails, support tickets and from any other web source and have it added automatically to your Insights repository. The extension will also automatically pair the feedback with the customer contact that provided it. This makes the process of adding feedback frictionless for sales executives and customer support agents.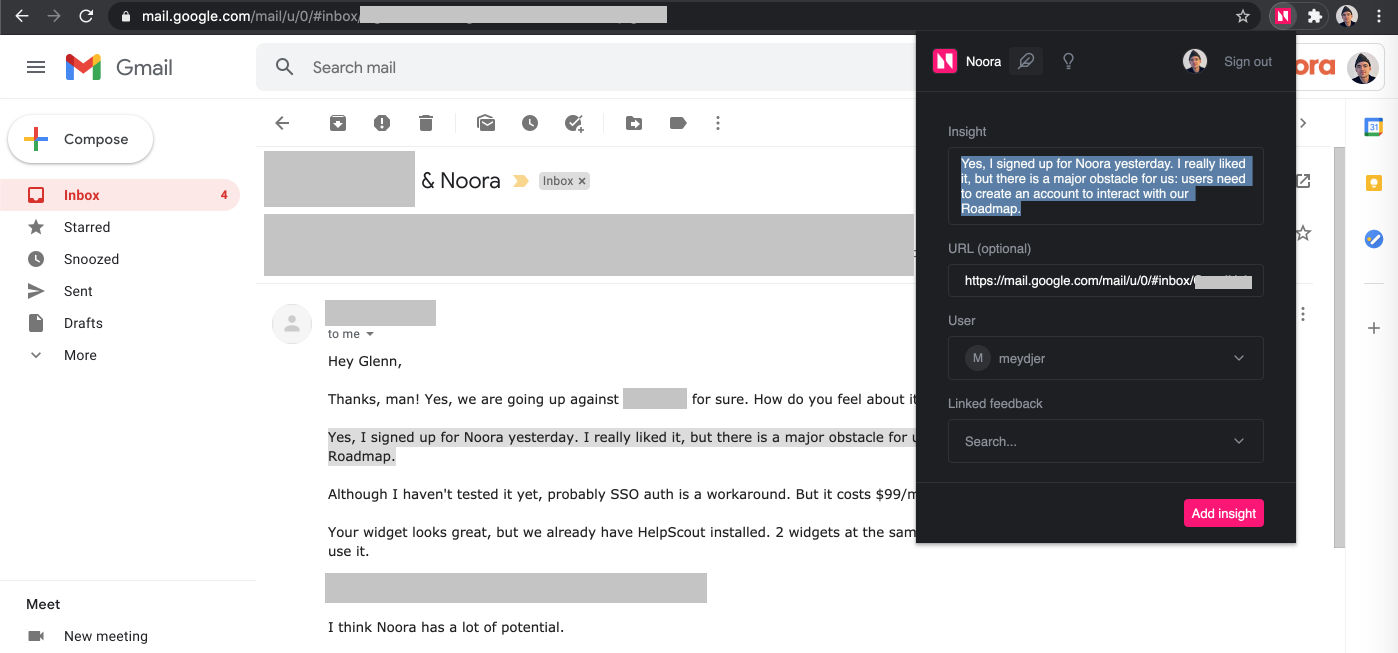 An example of capturing feedback from Gmail from an outreach email
UserVoice
UserVoice ticks the same boxes as Noora. So we won't cover the same ground here. However, we should add that it is a tool primarily directed at much larger Enterprise accounts such as Microsoft, so you should be aware that the starting price is likely to be more than 10x that of Noora.
Canny
Canny, like Noora and UserVoice, provides feature voting forums. These are places where customers can directly post their feature requests. Your team can also add feedback from users, however, there are a few drawbacks to collecting feedback in this manner. Firstly, the colleague adding the feedback is forced to analyze the feedback and create a feature request directly from it. Customer feedback should not be limited to simple wish lists from users. As a Product Manager, you should be looking for unfiltered insights that you can use to add weight to future prioritization.
Our view is that Noora and UserVoice are more powerful tools for collecting customer feedback from your internal teams than Canny.