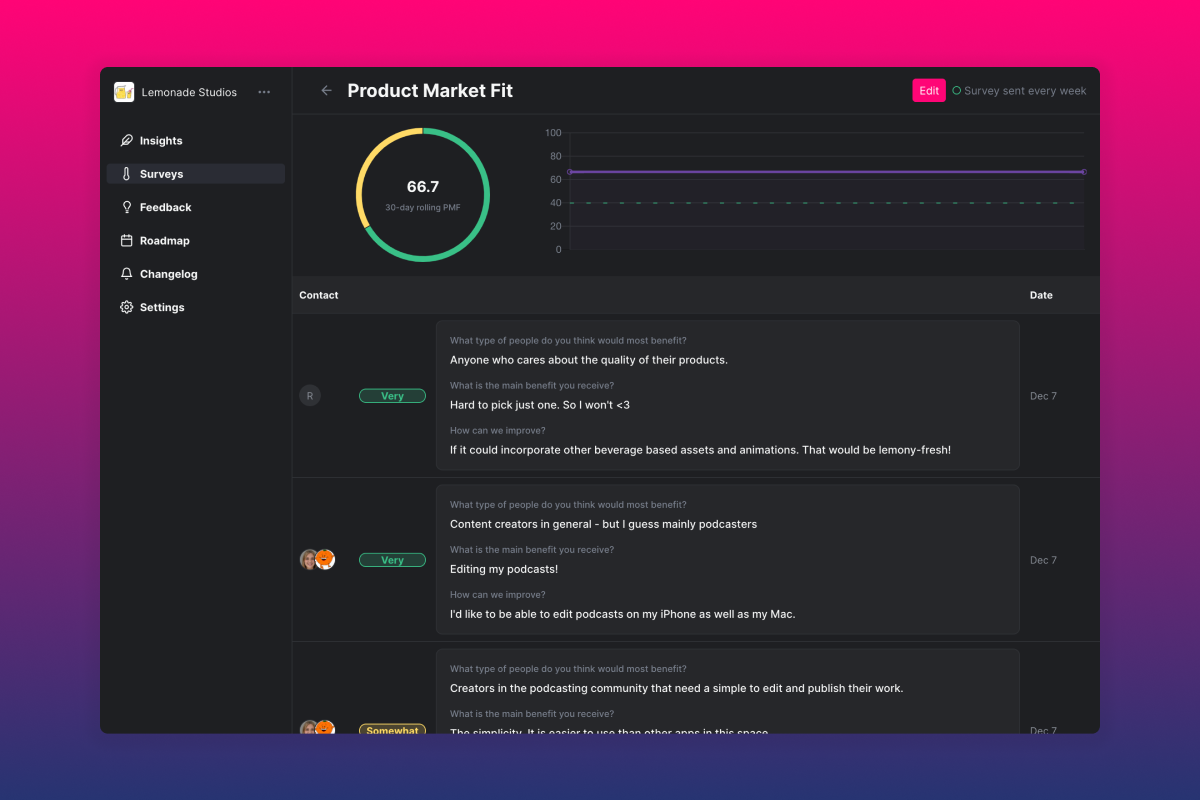 A guide to product-market fit surveys for startups
Written 7th December 2020
Not measuring product-market fit at your start-up? You could be missing out on a powerful tool that has powered start-ups such as Superhuman to hyper-growth.
How does a product-market fit survey help you measure your progress?
The most important question in your product-market fit survey is "How disappointed would you be if you could no longer use this product?". Your users should be given only three options - very disappointed, somewhat disappointed, not at all disappointed. To derive your product-market fit score, simply calculate the percentage of users that respond that they would be very disappointed. A percentage above 40% indicates that you might have reached product-market fit and it is time for your startup to scale-up your growth engines. Using a product-market fit tool such as the one built-in to Noora, will allow you to see over-time how your product-market fit is trending.
What questions should be included in a product-market fit survey?
We've already covered that the first, and most important, question is "How disappointed would you be if you could no longer use this product?". However, you should also ask your users:
What type of people do you think would most benefit from using your product?
What is the main benefit you receive from product?
How can we improve the product for you?
These other questions can provide revealing insights that will help you see which personas or segments you should focus marketing and messaging around in the early stages to attract more users to your startup's product. They are also a great way to understand what your users view as the true value of your product, allowing you to double down on feature improvements.
How many users do I need to be able to measure product-market fit?
As ever, the more responses you can get, the more statistical significance your results will have, but it is possible to derive interesting product insights from only 40-50 responses. This is why the product-market fit survey is great for early-stage startups (as opposed to NPS surveys, which better suit a company that is more mature, and focused on taking the temperature of an already large customer base).
Who should I send the survey to?
The creator of the product-market fit survey, Sean Ellis, recommends that you survey the following users:
Users that have experienced the core of your product offering.
Users that used your product at least twice.
Users that have used your product in the last two weeks.
Noora's own product-market fit survey tool allows you to specify rules to ensure that only the user segment that matches the above criteria (or if you prefer, a variant of it) will be sent the survey on a recurring basis.
How often should you measure product-market fit?
Although it is entirely possible to only run the survey on a one-off or manual basis, it makes for a more meaningful and long-term tool if you consistently, and repeatedly, follow-up with your users on how they feel about using your product. By doing this, you will be able to measure over the long-term if you are building towards product-market fit or simply adding bloat to your product.
By using Noora's own product-market fit survey tool, you can choose to run your survey on a recurring basis over the following time periods:
Every 7 days
Every 30 days
Every 90 days
This means that your survey will constantly be running, and you will be able to see a rolling 30-day average of your product-market fit. Importantly, each user will only be asked a maximum of one time during that rolling period, so you can be confident that you won't spam or annoy your users by asking them for feedback too often.