3 Best Ways To Collect Game Feedback
Last updated 8th February 2022
Your most dedicated fans know what they love and enjoy most about your game. Listening to them means building a better game - including refining the core game mechanics and design - so that you can reach an even bigger audience on Steam and on the Epic Games store.
Taking the approach of launching a forum and dedicated feedback portal will also open up the possibility for your game development studio to build a strong, engaged community around your titles. Creating buzz and helping to generate word of mouth so that your title reaches even more gamers in the future.
1. Feedback boards with voting
Feedback and feature request boards make it simple for your studio to collect and prioritize in one place.
For example, Invisible Walls are using Noora to make their Steam title First Class Trouble a smash-hit. You can read more about their journey here.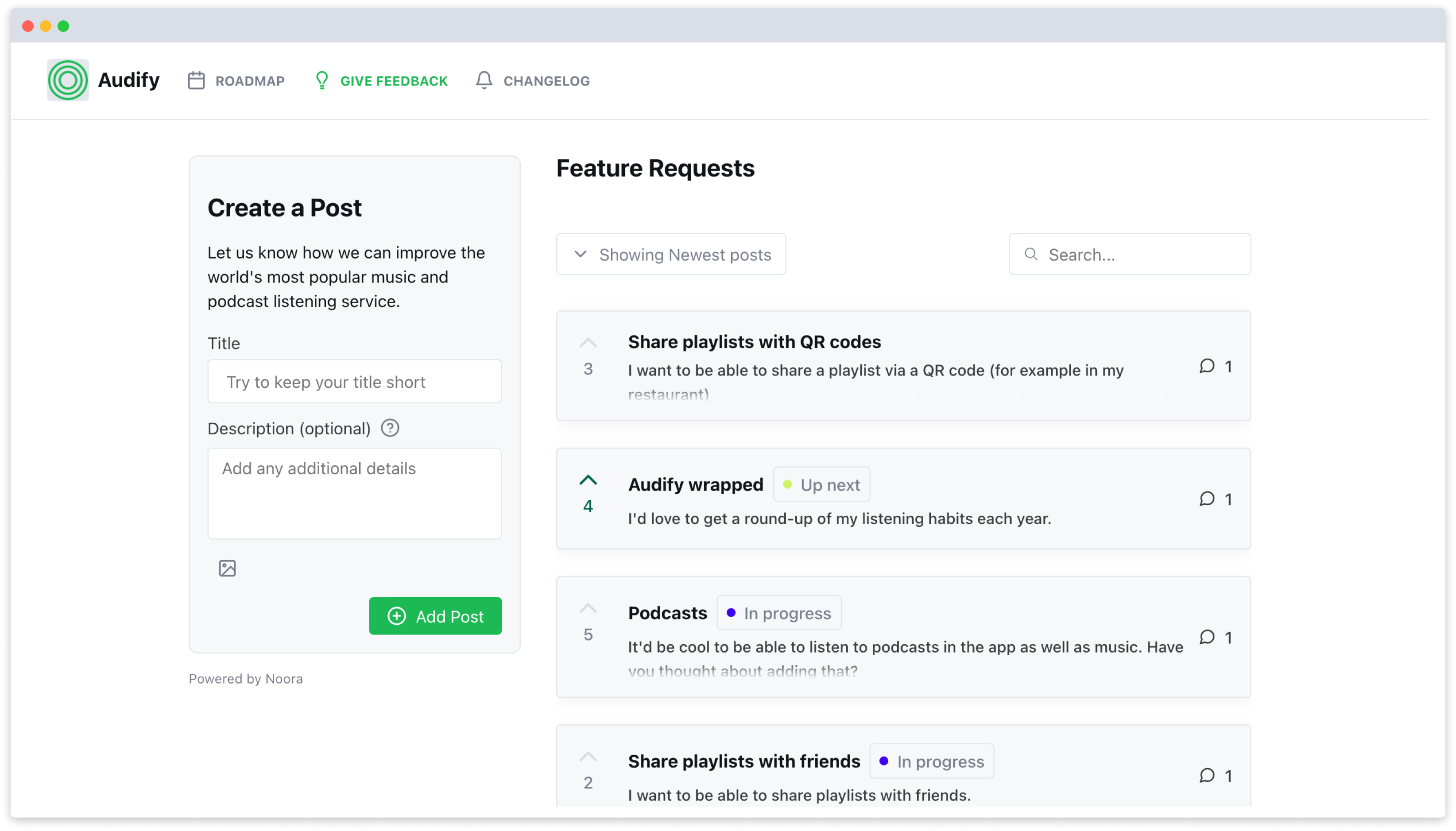 Noora supports multiple feedback boards within one portal. This makes it easy for you to collect both feature requests and ideas, as well as bug reports from your players.
You can also share your roadmap - perfect for Steam early access titles, who want to give a clear roadmap to early adopters for which in-game content is due to be launched in the future.
You can also configure each feedback board to have a specific form, making it a breeze to create a bug reporting template that ensures your developers will have simple steps to reproduce. The comments feed makes it possible for your Community Managers or QA Leads to follow-up with users to ask for further information.
Noora's feedback portal start at $29/month, with discounts also available for indie game devs. The product is also built by a company founded by games industry veterans, who have worked for the likes of SEGA in the past.
Learn more about how to use Noora to collect feature requests for your game here.
2. Community forums
Steam provides you with community forums for your titles entirely for free - a great way to start building community around your game. However, they can quickly become messy when it comes to collecting and organizing feedback and bug reports. You'll be forced to put in a lot of effort into the moderation.
As an example, Minecraft has forums that have hundreds of thousands of threads for their team to keep track of.
We recommend using Steam's forums and also having a dedicated feedback portal for feature requests and bug reports.
3. One-off surveys
Surveys are great for collecting focused feedback on a one-off basis. They don't let you build a community around your game, one of the major benefits of forums and a dedicated feedback portal. It is also pretty hard to get people to fill in surveys, particularly if sent via email.
In 2022, we think it is a better approach to build a strong community around your title to ensure long term success as your studio launches new content or expansions for your game.