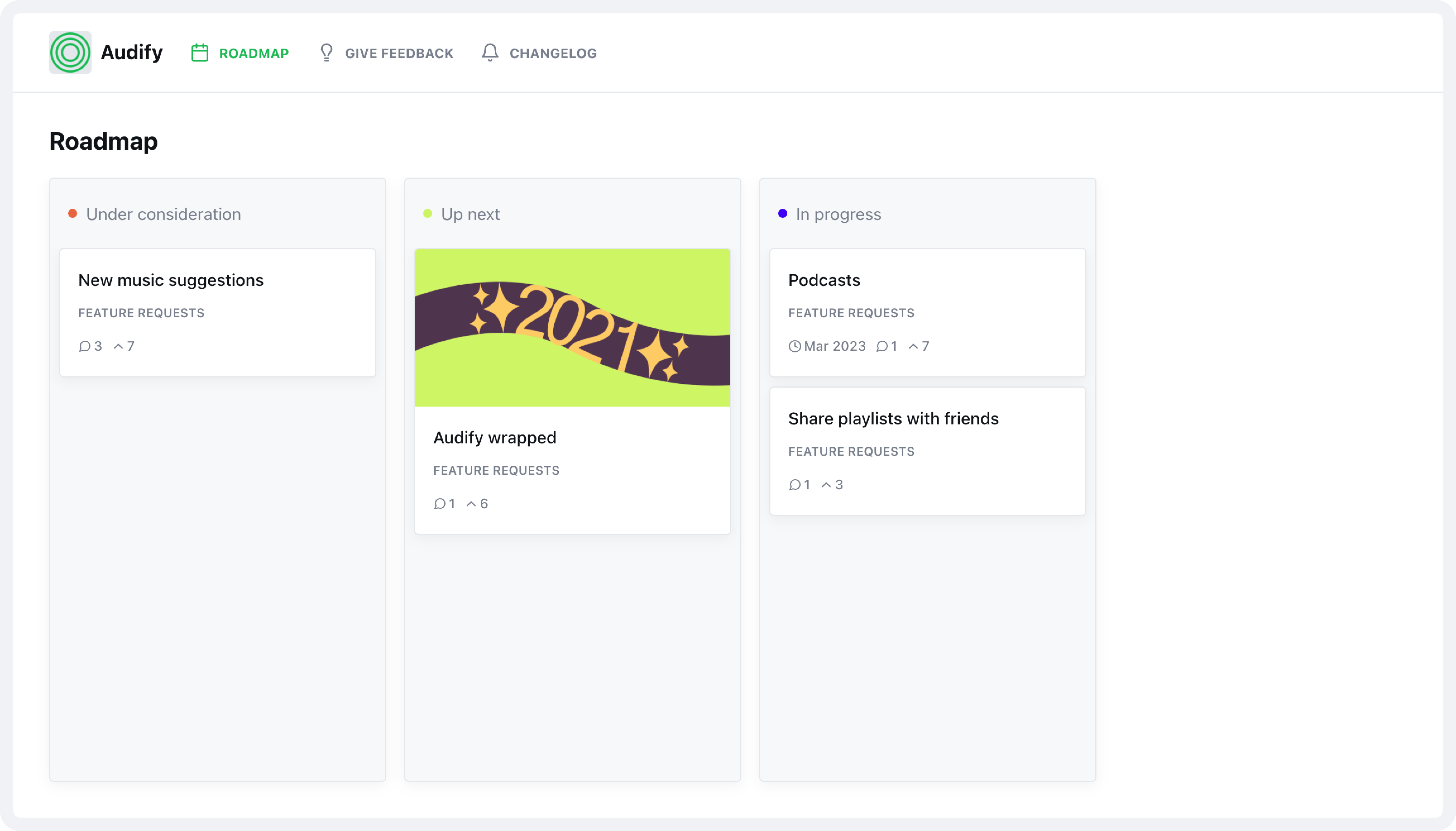 How to choose the right public roadmap tool for your product roadmap
Written 8th September 2020
There is a temptation to keep your product roadmap private and a closely guarded secret. The myth is that if you reveal what you are working you'll simply give your competitors the chance to copy and overtake you. But this is an outdated concept. Forward leaning, user focused companies are reaping the benefits from being transparent with their product roadmaps and engaging their users by turning their product roadmaps into public roadmaps. A great example of a public roadmap being executed well, is that of Buffer.
By allowing your users to vote and comment on your product roadmap, you are giving yourself another channel of communication to them. This can only help to focus your product development efforts and give you confidence that you are working on the right user stories.
Choosing the right public roadmap tool
When choosing a public roadmap tool, you should be looking for something that doesn't require a great deal of maintenance or effort. There is nothing more damaging than an out of date product roadmap. Ideally, it should also offer two key features:
Feature voting from users.
Automated notifications when features ship to users.
You want to choose a tool that offers feature voting to your users so that you can gather feedback from your user base on your future product direction. Users shouldn't decide the future of your product, but having your finger on the pulse of what your user base thinks is a good way of reducing churn and increasing engagement. Their input is another layer on top of your own insights and (hopefully) analytics from tools like Mixpanel and Amplitude.
Automated notifications are a powerful feature that ensures that you close the feedback loop with your users. It is extremely beneficial to keep your users updated when something they have requested makes it into the end product. This can either help reduce churn (users cancelling your service) or increase re-activation (churned users returning). By using a dedicated public roadmap tool, you will not need to manually hunt down users who have requested features. As soon as you mark the status of the feature request as "Shipped", you can be sure that everyone who has voted for it will receive a notification.
How to set up a public roadmap
The first step to getting your public roadmap set up is to determine the stages that features flow through in your product development. Buffer chooses to use the statuses: Exploring, In Progress, Done! and Leaving it for Now. The best public roadmap tools allow you to customize the statuses that feature requests and ideas flow through.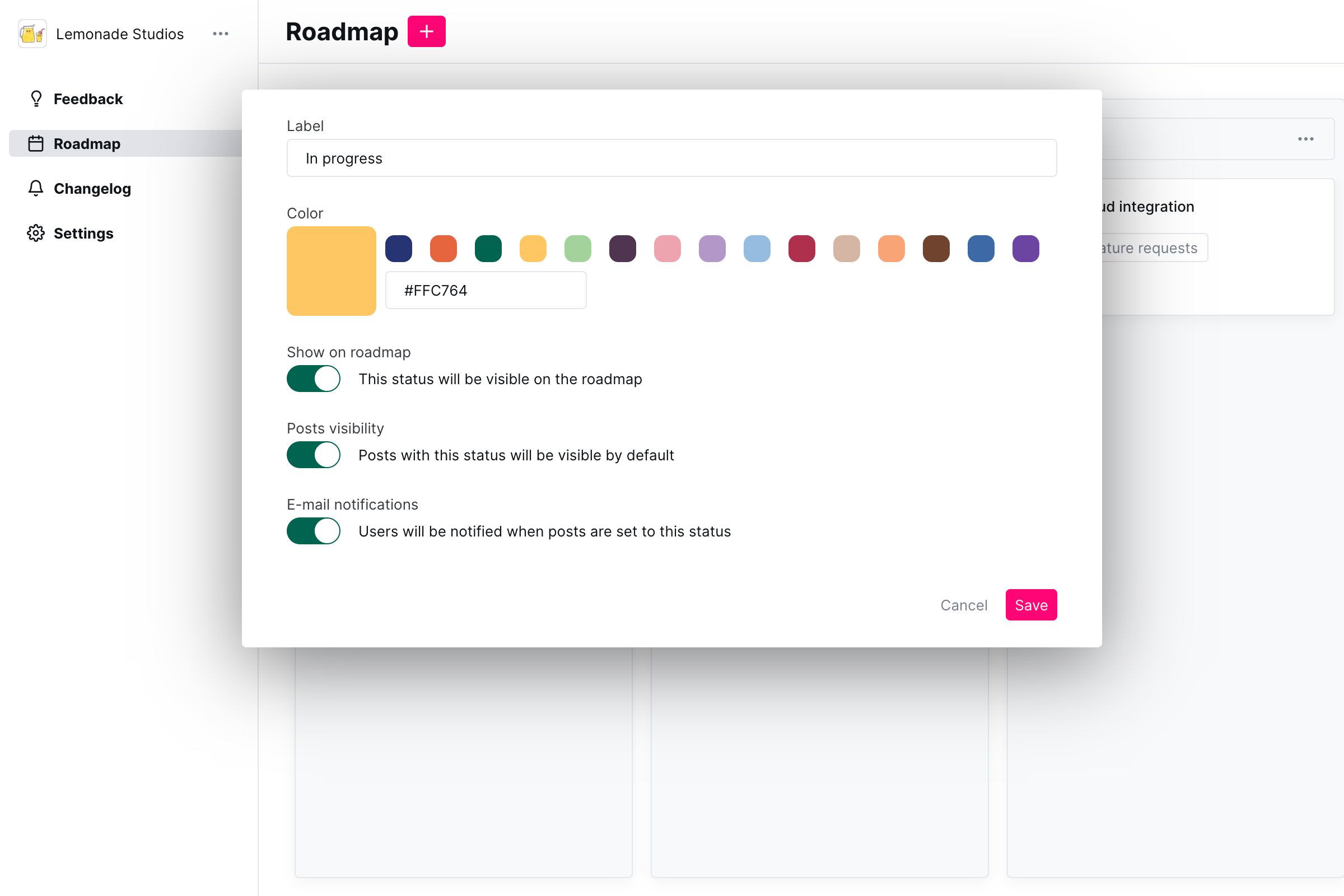 Customizing statuses in Noora
Be careful of choosing rigid tools such as Canny that force you to use their own statuses. The statuses that you assign ideas are an important means of communicating to your users with your own voice and brand. Your public roadmap tool should allow you to build trust with your users, and forcing yourself to use pre-prescribed statuses is not a good start to that process.
Next steps
Ready to get started with turning your product roadmap into a public roadmap? Noora is a feature voting and public roadmap tool that ticks all the boxes for essential features that we've covered in this article. You can get started for free for 14 days today!
Try Noora free for 14 days.
Free 14 day trial. No credit card required. Cancel at any time.