The best changelog tools and software
Last updated 12th January 2021
Why use a changelog tool?
Publishing your release notes with a changelog tool makes it easy to communicate the latest product updates and bug fixes that you have rolled out to your users. It is an efficient way to show that you are actively improving and adding value for your users.
You should require that your changelog tool gives you both standalone release notes and also an in-app embedded widget.
At a glance comparison
Feature
Noora
Beamer
Headway
Monthly visitors


How many people can view your release notes.

Unlimited
5k
Unlimited
Post reactions and feedback


Collect feedback on posts.

🔜
✅ from $99
❌
User segmentation


Publish posts to a limited segment of users.

🔜
✅ from $99
❌
Link posts to user feedback


Close the feedback loop by linking back to user feedback.

✅
❌
❌
Custom categories


Customize the categories your posts belong to.

✅
✅
✅
Category filtering


Users can filter on categories.

✅
✅
❌
Push notifications


Notify subscribers when new posts are published.

🔜
✅ from $99
❌
Custom domain


Host your changelog on your own site.

✅
✅ from $99
✅
Pricing


Comparing the cheapest plan for each product.

$9
$49
$29
Detailed look at each changelog and release notes tool
1. Noora
Noora offers the same changelog functionality as the other tools in this list, with the added benefit that you can also publish your product roadmap and gather feature requests from your users, at no additional cost. This makes it a worthy alternative to both Beamer and Headway.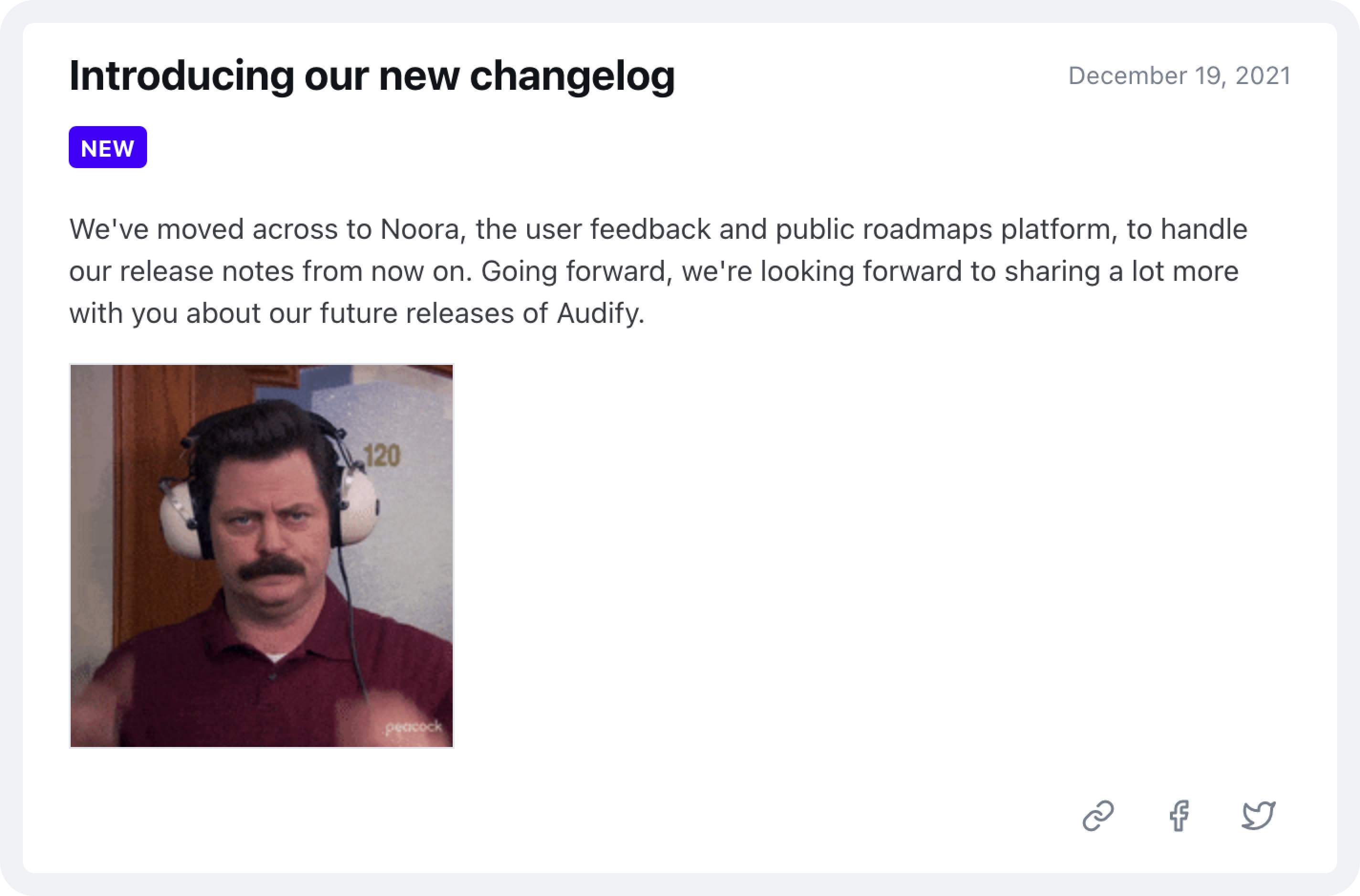 Noora benefits
Most affordable option if you need more advanced features such as user segmentation.
Can tie your changelog to your public roadmap and user feedback.
SEO support - your release notes will have full SEO support, and a sitemap is generated if you connect your own domain.
Light and dark themes.
Want to learn more about how Noora changelogs work? Click here to read more.
Noora pricing
Pricing starts as low as $9/month, which makes Noora the most affordable option in this category of tools in terms of the number of features you will unlock at that price point.
Start your free 7 day trial today
2. Beamer
Beamer benefits
Supports multiple languages.
Allows you to collect user feedback and reactions, although this requires the $99 per month Pro plan.
Beamer pricing
Beamer has a very limited free plan, so for a fairer comparison we have looked at the $49/month Startup plan. Unfortunately, even at that price point, you need to fork out closer to $99 a month to unlock features such as user segmentation and custom domains.
Visit Beamer's website at getbeamer.com
3. Headway
Headway is a very simple changelog app to get started with. However, there is no possibility for users to interact with you via the changelog or to subscribe to updates. This is a big drawback compared to Beamer and Noora. In addition, there have been very few updates or additions to the platform itself, so don't anticipate getting additional value from your $29 per month.
Headway benefits
Very clean and simple design.
Transparent pricing.
Headway pricing
Headway has a limited free plan, but keeps things simple by allowing you to unlock features such as custom domains for a flat-rate of $29 per month.
Visit Headway's website at headwayapp.co